As an Amazon Associate, I may earn a commission from qualifying purchases. Please note that you are never charged any extra for that.
These days makeup is deeply ingrained in women's daily routine, and it just becomes a distinctive culture of our society. Here a saying fit completely, "excess of everything is bad." No one will ever question why makeup is bad for society.
In a recent blog post, Anna Akana discusses the societal pressure placed on women to wear makeup. She argues that makeup is bad for society because it perpetuates the idea that women must conform to unrealistic standards of beauty. Akana points out that many women feel pressured to wear makeup in order to be seen as competent and professional.
This pressure can lead to low self-esteem and anxiety. Moreover, the time and money spent on buying and applying makeup could be better spent on other pursuits. In conclusion, Akana urges women to embrace their natural beauty and resist the pressure to wear cosmetics.
What Effect Does Makeup Have on Society?
In today's society, it is not uncommon to see women (and men) wearing makeup. Whether it's a light foundation and some concealer to cover up blemishes, or a full face of contouring, highlight and lipstick, makeup has become a staple in many people's daily routines. But what effect does this have on society?

There are many different opinions on the matter, but overall, makeup does have an effect on society. For better or for worse, people tend to judge others based on their appearance. And while we all know that we shouldn't judge a book by its cover, first impressions are still important.

When someone sees another person wearing a lot of makeup, they might automatically assume that the person is vain or superficial. On the flip side, if someone sees another person with a bare face, they might assume that the person is confident and comfortable in their own skin. Of course, these assumptions could be completely wrong – but that's just how our brains work.

Another way that makeup affects society is by perpetuating unrealistic beauty standards. We live in a world where airbrushing and filters are the norm, and where people are constantly bombarded with images of "perfect" celebrities and Instagram models. It can be hard to feel good about yourself when you're constantly comparing yourself to impossible standards.

Makeup can give us a false sense of perfection that doesn't exist in real life – which can lead to low self-esteem and body image issues. Overall, there is no right or wrong answer when it comes to whether or not makeup has an effect on society. It all depends on how you look at it.
Why is no makeup looks so questionable?
Firstly, I want to make it clear here. I have no problem with women wearing makeup. Or I am not even questioning why they wear them. I know that makeup is an art for many women, and they feel more confident with makeup. But the question rises here, are women should depend on makeup for confidence or their self-image? Is your makeup will describe your personality or talent to others? Certainly not. But this is happening. We give Judgment to women on their makeup and their looks. If you don't Believe this; I will ask you for just one day to go to your office or your university with no makeup on your face. And observe how people will look at you. Or maybe they ask you questions like, "Is something wrong? Or are you ill? 
Why is Makeup Bad for the Environment?
Makeup is bad for the environment because it often contains harmful chemicals that can pollute the air and water. Makeup can also end up in landfill sites where it takes years to decompose. The most common type of makeup, foundation, usually contains a range of synthetic chemicals such as parabens, phthalates and nanoparticles.

These have all been linked to health concerns such as cancer, reproductive problems and endocrine disruption. When these chemicals are applied to the skin, they can be absorbed into the body. When they are washed off, they can pollute waterways.

Nanoparticles in particular are so small that they can pass through sewage treatment plants and end up in rivers and lakes, where they can be ingested by fish and other wildlife. There are some more eco-friendly options available now though, such as mineral makeup which uses natural ingredients like titanium dioxide and zinc oxide instead of synthetics. There are also companies making vegan makeup with sustainable packaging – so it's worth doing some research before you buy your next beauty product!
Why is Makeup a Problem?
Makeup is often seen as a necessary evil by many women. It is something that we feel we need to wear in order to look presentable and put together, but it can also be a real pain to apply, especially when you're in a hurry. Additionally, makeup can be expensive, and it can be difficult to find products that work well for your skin type.

However, the biggest problem with makeup is that it can actually be bad for your skin. Wearing foundation and other heavy cosmetics can clog your pores and lead to breakouts. In addition, constantly touching your face while applying makeup can cause irritation and even spread bacteria.

If you already have sensitive skin, wearing makeup can exacerbate these issues. Of course, this isn't to say that you should never wear makeup again – if you enjoy wearing it and it makes you feel good, then go ahead! Just be sure to take care of your skin underneath all those products, and don't forget to give yourself a break every once in a while. Your skin will thank you for it!
Why is makeup bad?
Makeup is so embedded in our society that we feel that barefaced woman is an alien, or we expect them to wear makeup. New York Times discussed a study showing that women with makeup are more preferred and competent than women without makeup. And I face this situation in real that gives me a kick to write my thoughts and share my story with you.
I recently went out for a job interview with no makeup on my face, as I thought my evaluation would be on the basis of my skills or CV. But things were the opposite. After taking my interview, the interviewer said, "Your CV and everything is great. Don't you think you need to work on grooming your personality?" That reaction was unexpected to me, and I was shocked by this behavior. But this thought is common for barefaced women among every person these days.
In a society that is increasingly focused on beauty and perfection, it's no surprise that makeup has become a big business. But while many women view makeup as a way to enhance their natural beauty, there is growing evidence that makeup is actually having a negative impact on society.
There are many negative effects of makeup, especially if it is not applied correctly or if the wrong products are used. Makeup can cause skin irritation, acne, and even allergic reactions. If makeup is not removed properly, it can clog pores and lead to breakouts. In some cases, people can develop an obsession with wearing makeup and this can lead to social anxiety and low self-esteem.
Here are four ways that makeup is bad for society:
1. It reinforces unrealistic standards of beauty.
2. It can be harmful to your health.
3. It contributes to gender inequality.
4. It's contributing to plastic pollution.
What should you consider if you are a makeup lover?
If you love to wear makeup, there is no problem. It's your choice. But don't make your choice your necessity. Never dependent your self-esteem on makeup. Makeup should not be the reason to describe a person's personality or self-image instead of herself.
Here I will give you another example of "why makeup is bad for society?" If we think makeup is an extra burden on our shoulders these days. You will see men around who are with the same education or with the same skill came to the office or go for an interview with zero makeup on their faces and got selected. But at the same time, with all the degrees or talent or skills we have to concentrate on makeup and clothes more than men. Isn't it disgusting?
A real story about makeup obsession in society:
If you remembered, in 2012, a picture of Hillary Clinton (former secretary of the United States) went viral on social media. You will be amazed to know why Hillary Clinton talks about dealing with Iran with no makeup on their face. People trolled her for her age; her physical looks instead of listening to her speech.
Furthermore, on Instagram, you will see viral pictures of celebrities with no makeup on their face. People will give attention and appreciation to these pictures like they are their abnormal pictures. It means women who share a photo with no makeup are like shocking or bizarre behavior. More than this, you will also see tag lines that some heroin or model caught without makeup. Really? Is showing natural skin to the public is a crime?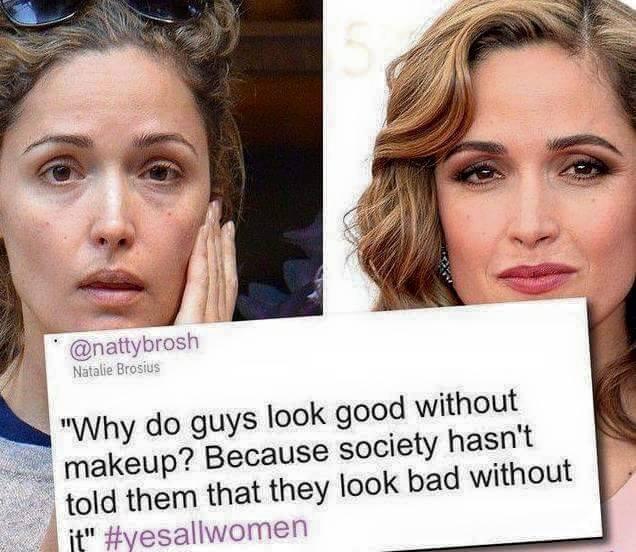 Credit: twitter.com
Is Makeup Bad For You?
In a world where everyone is trying to fit in, it's no wonder that makeup has become so popular. It seems like everywhere you look, people are wearing it. TV shows, movies, and even magazines are all full of images of people with perfect skin and not a blemish in sight.

It's easy to see why someone would want to achieve that level of perfection. However, there are some serious drawbacks to this trend. For one thing, it perpetuates the idea that appearance is everything.

Women (and increasingly men) are bombarded with messages telling them they need to look a certain way in order to be considered attractive. This pressure can lead to low self-esteem and body image issues. It also encourages people to view others based on their looks rather than their personality or character.

This can lead to shallowness and superficial relationships. In a society that values looks above all else, it's hard for people to truly connect with one another on a deeper level. So why does makeup continue to be such a big part of our culture?

Unfortunately, it's often seen as necessary for success in many fields. Many women feel like they need to wear makeup in order to be taken seriously in the workplace. Others believe that they need it just to get noticed by the opposite gender. Until we change these attitudes, makeup is likely here to stay—and that's not necessarily a good thing.
Conclusion:
I want to remind you here I am not a hater of makeup. I wore it when I need it. But if I don't, no one has the right to judge me for the makeup on my face. But it happens. For this reason, I describe various facts about why makeup is bad for society. A woman is born without makeup. Makeup is just an art and choice, not a necessity for women. So, we should judge women based on their skills and talents instead of their makeup. Wear makeup or not, it's your own choice, But never judge other women for either they use makeup or not.